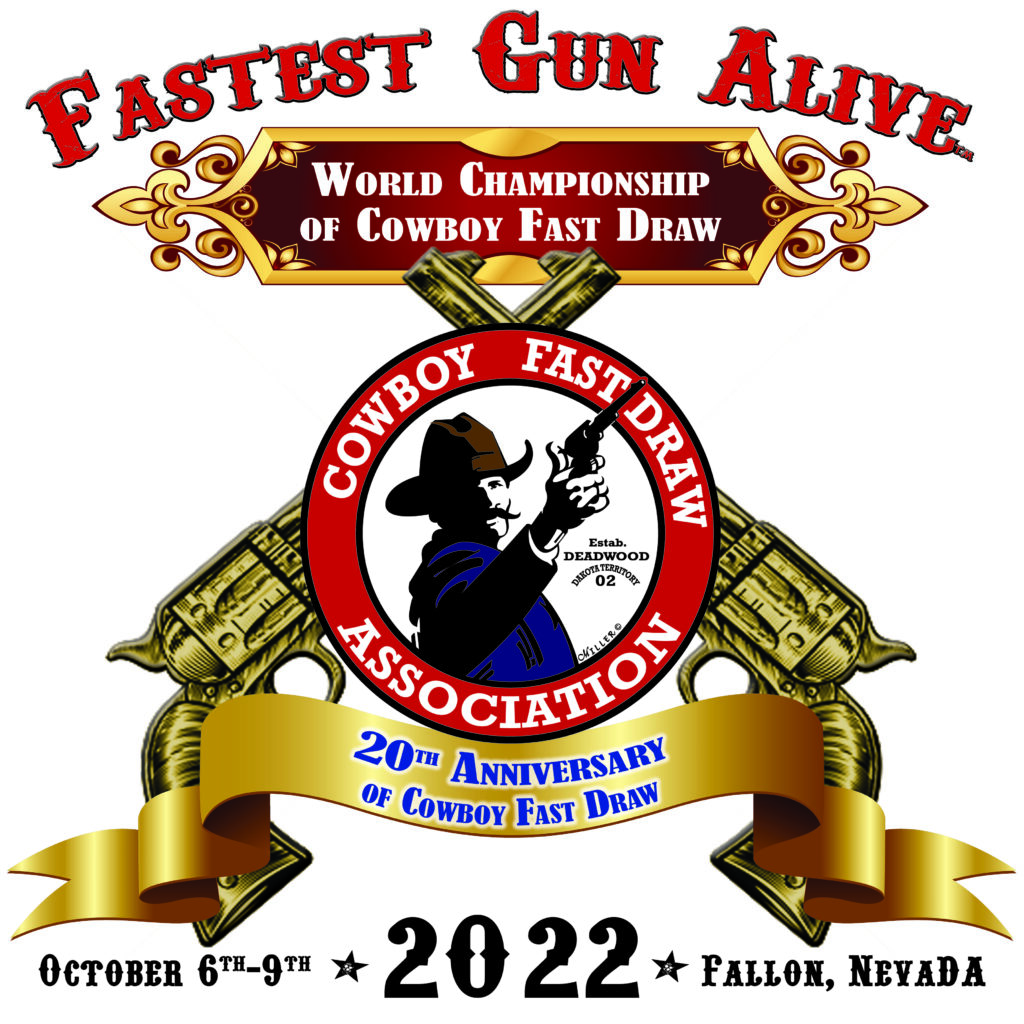 Churchill County Fairgrounds 3C Arena
TRY Cowboy Fast Draw FREE on the New CFDA Mark IV Taser Targets! (Saturday Only)
Events for the Whole Family!!!
World Championship Cowboy Fast Draw Competition
Car Show – Craft Fair – Food Vendors – And More!
Don't miss this unique and exciting event!  Events for spectators to try Saturday!
The Cowboy Fast Draw Association is once again proud to host the Fastest Gun Alive: World Championship of Cowboy Fast Draw  on October 6th-9th, 2022.  This is the 18th year that the Cowboy Fast Draw Association has hosted the Fastest Gun Alive World Championships in Fallon, NV, with competitors coming from all over the nation to compete.  We have 250 of the fastest gunslingers around vying for a chance to be named THE FASTEST GUN ALIVE.  While watching the shooting competition you will see kids as young as 8 years old competing in the Youth Division.  Our Youth participants have been highly trained in safety procedures, and are some of the funnest, most respectful shooters to watch.  You will also see Ladies and Men competitors dueling it out Thursday-Sunday, with the Finals taking place at High Noon on Sunday.  Some of the most exciting competition you will see!   
NO LIVE AMMUNITION! 
ONLY WAX BULLETS ARE USED IN
COWBOY FAST DRAW COMPETITIONS,
AND BLANKS ARE USED IN ALL OTHER EVENTS. 
– Western BBQ –  – Hot Dogs – Hamburgers – And More!
We have a great variety of Vendors this year including Western Craft Vendors,
Holster Makers, Western Clothing, and great gift ideas!  
Be sure to check out these wonderful local crafters!

If you are interested in being a Vendor, please contact CFDA main office at 775-575-1802
or email us at info@cowboyfastdraw.com
Sponsorship Opportunies Available!
To find out how to be a part of this World Championship Event click HERE
FOR MORE INFORMATION PLEASE CONTACT US AT (775)575-1802 or at info@cowboyfastdraw.com