The Hall of Recognition is a place for CFDA to recognize the recipients of CFDA's most notable annual awards.
| Year | Club | Location |
| --- | --- | --- |
| | Powder Horn Ranch Regulators | |
| | | |
| | | |
| | Treasure Valley Gunslingers | |
| | | |
| | | |
| | | |
| | Powder Horn Ranch Regulators | |
| | | |
| | Blue Grass Fast Draw Club | |
| | | |
| | | |
| | | |
| | | |
| | | |
| | The Sawtooth Shootist Society | |
| | Association of Arizona Gunslingers | |
"CFDA All The Way" Sundowner Award
The CFDA "All the Way" Sundowner Award was created in 2008 and presented by CFDA Management to the person or couple working as a team that truly promotes the Sport of Cowboy Fast Draw wherever they go. Their efforts extend beyond a single club or state and they influence entire regions to grow the sport across the country. There is only one such award presented each year at the Fastest Gun Alive – World Championship of Cowboy Fast Draw. Recipients of this prestigious award from that time on form the committee each year to nominate and vote on each current year's recipient.
This award was named in honor of its first recipient, George Narasaki a.k.a. Sundowner, who's long and distinguished Fast Draw career dates back to the 1950's. He is not only an accomplished competitor, but has kept his club The Sundowners active for over 60 years. "CFDA All the Way" is a quote coined by Sundowner, as he has traveled across the country supporting clubs hosting CFDA Titled Championship and is always there to help wherever he can.
2008 George Narasaki a.k.a. "Sundowner"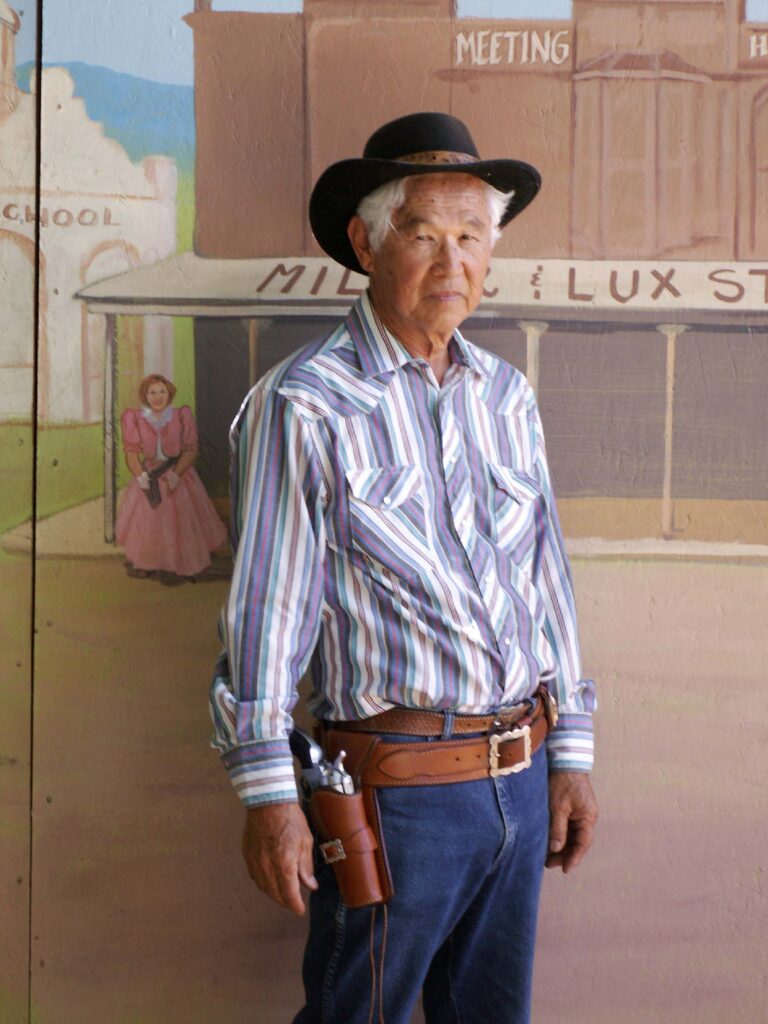 2009 Dave Miller a.k.a. "Mongo" & Shirley Miller a.k.a. "Wench"
2010 Troy Bollock a.k.a "Boulder Vaquero" & Bonnie Bollocka.k.a. Boulders Babe
2011 Doug Treadway a.k.a. "Noah Chance"
2012 Marshall Hopper a.k.a. "Mississippi Marshal"
2013 Jeff Duncan a.k.a. "Ringo", VA
2014 Randy Smith aka Windmill Kid & Betty Smith aka Miss Betty
2015 George Dezendorf aka "Gentleman George" & Kay Dezendorf aka "Texas Rose"
2017 Curley Calhoun and Cool Hand Suz
2019 Diamondback Billy & Snake Charmer
This award is presented each year to The CFDA member who represents those who no matter what challenges life throws their way, they face them and never lose faith in the Cowboy Way, and serve as an example for the rest of their CFDA Family to follow.
2009 Bill Barnthouse a.k.a. Billy 2 Guns
2010 Todd Vonfeldt a.k.a. Oregon Cowboy
2011Tony Smart a.k.a. Old Buzzard
2012 Jimmie Odom a.k.a. "Jimmie O"
2013 Robert Norvelle aka "Hell on Wheels"
2014 Prairie Ville Desperados
2015 Gary Adrien aka "Deacon" & Carol Adrien aka "Angel Lady"
2016 Lefty Lipscomb & Wild Shot
CFDA Annual Spirit of the Game Award Recipients
In 2012, the Top Hand Award was created by CFDA to recognize key members who go the extra steps to contribute to the sport both locally and nationally. Each recipient receives a special lapel pin, plus a certificate the read the following:
"Has been recognized by the Cowboy Fast Draw Association for years of unselfish and dedicated service and leadership. Thanks to your contribution, the Tradition of our Western Heritage and the Cowboy Way will live on in the hearts of all who are fortunate to discover Cowboy Fast Draw. Therefore, the title of CFDA Top Hand is hereby bestowed this 6th day of
October, 2012.
"
The following names of the recipients we recognized at the Fastest Gun Alive and are in the process of being posted permanently on the CFDA website. Clubs may nominate members who do so much behind the national scenes for this national recognition. The initial incoming class of recipients was much larger than we expect in future years. This was due to a retroactive acknowledgement that had been long deserved in many cases. Congratulations to all of the recipients!
| Year | Club | Location |
| --- | --- | --- |
| | Powder Horn Ranch Regulators | |
| | | |
| | | |
| | Treasure Valley Gunslingers | |
| | | |
| | | |
| | | |
| | Powder Horn Ranch Regulators | |
| | | |
| | Blue Grass Fast Draw Club | |
| | | |
| | | |
| | | |
| | | |
| | | |
| | The Sawtooth Shootist Society | |
| | Association of Arizona Gunslingers | |
ALiases Listed in Alphabetical order for each year
Alias

CFDA#

State

Year Inducted

Club (clubs were not added until 2015)
| | | | | |
| --- | --- | --- | --- | --- |
| 2015 |   |   |   |   |
| Bam Bam | L1065 | ID | 2015 | Eagle Rock Outlaws |
| Brasada Spur | L2107 | AZ | 2015 | Old Pueblo Gunfighters |
| Buffalo Kid * | L2213 | * | 2015 | Old Dominion |
| Cap'n Jack | 3308 | NV | 2015 | Great Basin Gunhawks |
| Cheyenne Shooter | 3309 | VA | 2015 | New River Fast Draw |
| Cool Hand Dan | 3100 | KY | 2015 | Bluegrass Fast Draw Club |
| Diamondback Billy | 1624 | AR | 2015 | Arkansas Rangers |
| Drifter | 1300 | WI | 2015 | Wisconsin Peacekeepers |
| Dry Run | 2191 | SD | 2015 | Powder Horn Ranch Regulators |
| Gambler | L3469 | ID | 2015 | Treasure Valley Gunslingers |
| Gunnison Ford | 1348 | CO | 2015 | Colorado Pistoleros |
| Jeremiah | L1654 | CO | 2015 | San Juan Shootists  |
| Lady Hawk | L3585 | ID | 2015 | Treasure Valley Gunslingers |
| Lavender Lady | 3810 | NV | 2015 | Great Basin Gunhawks |
| Lil Sis | 2049 | VA | 2015 | New River Fast Draw Club |
| Nebraska Kid | L1675 | WI | 2015 |   |
| Nick'em Badly | 3748 | CA | 2015 | Great Valley 6 Shooters  |
| Pistol Patty | 278 | WI | 2015 | Wisconsin Peacekeepers |
| Possum | L2604 | CO | 2015 | San Juan Shootists |
| Prairie Star | 2439 | NE | 2015 | Sparks Nebraska Spurs |
| Real McCoy | 2438 | NE | 2015 | Sparks Nebraska Spurs |
| Ricochet Rose | 2451 | CA | 2015 | Gold Country Outriders |
| Sense of Yuma | 1707 | ID | 2015 | Treasure Valley Gunslingers |
| Sgt. Major | 2216 | AZ | 2015 |   |
| Shane | L1674 | KY | 2015 | Bluegrass Fast Draw Club |
| Shenandoah | L2104 | VA | 2015 | Virginia Peacemakers  |
| Snake Charmer | 2565 | AR | 2015 | Arkansas Rangers |
| Spanky | L1284 | VA | 2015 | Old Dominion Fast Draw |
| Texas Marshal | L1161 | CO | 2015 | Colorado Pistoleros |
| The Island | 3012 | SD | 2015 | Powder Horn Ranch Regulators |
| Tin Cup | 3291 | CA | 2015 | The Deputies |
| Witlock | 3141 | CA | 2015 | The Deputies |
|   |   |   |   |   |
2016
 
 
 
 
Big Ugly
L3510
VA
2016
 
Dag Nabit
L154
CA
2016
Bar T Gunfighters
Dead Eye Darrell
484
SD
2016
 
Hankerin' Hank
2954
AZ
2016
Old Pueblo Gunfighters
Honcho
3384
Switzerland
2016
Lake Agovie Gunfighters
Kansas Belle
L1479
KS
2016
Deer Creek Regulators
Kid Cisco
2561
KY
2016
 
Lightnin'
L1508
MN
2016
 
Manco
3200
CO
2016
 
Nevada Belle
L3383
ID
2016
 
No Daisy
L3568
CA
2016
The Cowboys
Paladin
3775
VA
2016
 
Rockyfork Kid
2566
KY
2016
 
Rooster Cogburn
L2382
CA
2016
Gold Country Outriders
Scrap Iron
L3454
WI
2016
 
Shady Mike
L2697
AZ
2016
 
Single Phase'n
3802
CA
2016
The Cowboys
Smokin' Gun
L2619
FL
2016
 
Specs
2940
AZ
2016
Old Pueblo Gunfighters
Star of Africa
L3715
TX
2016
Lone Star Gunslingers
Sure Shot Windy
1358
WI
2016
 
Texas Boer
L3714
TX
2016
 
Too Slow Joe
3265
VA
2016
 
Ubet
L2366
ID
2016
 
Von Zipper
L2800
FL
2016
Single Action Savants
Wildfire
4040
KY
2016
 
Willy Draw
L4097
TX
2016
 
Wishbone
3351
OK
2016
 
 
 
 
2017
 
 
 
 
Alonzo Slim
2641
AZ
2017
Old Pueblo Gunfighers
Black Eyed Susan
3609
WI
2017
Black River Bandits
Blackfox Lil
L4125
OK
2017
Green Country Gunslingers
Blacky Pete
3720
CA
2017
The Cowboys
Blue Hawk
4236
FL
2017
Cracker Cowboys
Boss 45
2271
AZ
2017
Rio Salado Vaqueros
Cheyenne Star
4502
NV
2017
Great Basin Gunhawks
Clear Shot
3024
ID
2017
Treasure Valley Gunslingers
Diamond Girl
L4535
OK
2017
Green Country Gunslingers
Diamond Rose
4403
OK
2017
Green Country Gunslingers
Dirty Harry
3610
NV
2017
Genoa Mavericks
Dry Gulcher
2584
AZ
2017
Assoc. of AZ Gunslingers
Etta Mae
4450
OR
2017
Lost River Rangers
Fossilman
L1241
WI
2017
Black River Bandits
Fowl Shot
L4003
CA
2017
The Sundowners
Green River
3891
KY
2017
Bluegrass Fast Draw Club
Grinnin Grizz
L4413
OR
2017
Lost River Rangers
Hangman
2065
ID
2017
Eagle Rock Outlaws
Huckleberry Honey
L4090
CA
2017
The Sundowners
Huntr Dan
3564
ID
2017
Treasure Valley Gunslingers
Ida Hitt
2066
ID
2017
Eagle Rock Outlaws
Jackie Daniels
L2472
NV
2017
Great Basin Gunhawks
Long Ranger
2571
VA
2017
Grandview Gunslingers
Mad Dog
L1442
KS
2017
The Deer Creek Regulators
Marshal's Daughter
L4113
TX
2017
Lone Star Gunslingers
McGillakuttie
3711
CA
2017
The Cowboys
Mendy
4044
FL
2017
Cracker Cowboys
Montana
L53
ID
2017
Treasure Valley Gunslingers
Moon Shadow
1632
KS
2017
The Deer Creek Regulators
No Name
1958
AZ
2017
Assoc. of AZ Gunslingers
Ol Buck'r
4091
CA
2017
The Sundowners
Outlaw Ike 
L2961
FL
2017
Single Action Savants
Outlaw Rich
2992
NE
2017
Sparks Nebraska Spurs
San Juan Sister
4166
CO
2017
San Juan Shootist
Sand Bur
 
 
2017
 
Scrap Iron
L3454
WI
2017
Copper Creek Rangers
Seven
4077
VA
2017
Virginia Peacemakers 
Shadow Walker
4335
NV
2017
Great Basin Gunhawks
Shady Lady
L1900
KS
2017
Deer Creek Regulators
Silver Bullet
2299
VA
2017
Grandview Gunslingers
Slim Garrett
3334
FL
2017
Single Action Savants
Sourdough
1082
CO
2017
Colorado Pistoleros
Tennessee Tim
L3697
CA
2017
The Cowboys
Texas Pete
1735
VA
2017
Virginia Peacemakers 
The Missourian
L1036
AR
2017
Randolph County Rangers
The Shootist
L4106
TX
2017
Lone Star Gunslingers
Tomcat Charlie
L1790
KS
2017
The Deer Creek Regulators
Travler
L1057
AR
2017
Randolph County Rangers
Viper
L3612
NV
2017
Genoa Mavericks
Yowee
2585
AZ
2017
Assoc. of AZ Gunslingers
 
 
 
| | | | | |
| --- | --- | --- | --- | --- |
| 2018 |   |   |   |   |
| Apache Bob | 2388 | PA | 2018 | Keystone Gunslingers |
| Apple Pie | 2525 | AZ | 2018 | Rio Salado Vaqueros |
| Black Gold | 4961 | TX | 2018 | Lone Star Gunslingers |
| Cali Red | 3441 | CA | 2018 | The Deputies |
| Grim | L4954 | VA | 2018 | Virginia Peacemakers  |
| Grumpy | L3377 | OK | 2018 | Green Country Gunslingers |
| Gunsmoke | 4681 | FL | 2018 | Cracker Cowboys |
| Harley Quinn | 4215 | CA | 2018 | The Deputies |
| Jake | 1659 | CO | 2018 | San Juan Shootists |
| Joker | 4212 | CA | 2018 | The Deputies |
| Madame K | 4173 | TX | 2018 | Lone Star Gunslingers |
| Miss Lily Belle | 4604 | CA | 2018 | The Cowboys |
| Miss Shotwell | L3121 | VA | 2018 | Grandview Gunslingers |
| Missouri Jim | L2705 | OK | 2018 | Green Country Gunslingers |
| Nara | 3369 | CA | 2018 | The Cowboys |
| Otto Matic | L3054 | AZ | 2018 | Old Pueblo Gunfighters |
| Papa Bear | 1224 | WI | 2018 | Black River Bandits |
| Riverside | 3984 | CA | 2018 | The Deputies |
| Run Fat Man Run | 3898 | CA | 2018 | The Deputies |
| Scorpio | 2765 | CA | 2018 | The Deputies |
| Sgt. Buck | 4172 | TX | 2018 | Lone Star Gunslingers |
| ThumbZee McMuffin | 1662 | WI | 2018 | Black River Bandits |
| Tinker Belle | 1660 | CO | 2018 | San Juan Shootists |
| Tishminga | L3478 | AZ | 2018 | Old Pueblo Gunslingers |
| Two Walks | 2579 | CA | 2018 | The Cowboys |
| Village Idiot | 4645 | CA | 2018 | The Deputies |
| | | | | |
| --- | --- | --- | --- | --- |
| 2019 |   |   |   |   |
| Appalachian Hillbilly | 5400 | KY | 2019 | Bluegrass Fast Draw Club |
| Bad Burro | L2699 | CA | 2019 | Bar T Gunfighters |
| Billy the Kid | L4145 | TX | 2019 | Comanche Moon Renegades |
| Brothel Bouncer | 5260 | VA | 2019 | Virginia Peacemakers  |
| Cherokee John  | 2564 | AR | 2019 | Randolph County Rangers |
| Cherokee's Lady | 3317 | AR | 2019 | Randolph County Rangers |
| Chicksaw Warrior | 630 | CA | 2019 | The Cowboys |
| Chuckwagon | 5344 | FL | 2019 | Cracker Cowboys |
| Crosswired | L4576 | OR | 2019 | Crooked River Rangers |
| Granny Oakley | L2171 | AZ | 2019 | Old Pueblo Gunfighters |
| Gun Doc | 5211 | VA | 2019 | Grandview Gunslingers |
| Gypsy Girl | 5345 | FL | 2019 | Cracker Cowboys |
| Hafta B. Fast | 3683 | FL | 2019 | Flatlanders Shootist Society |
| Hawkshaw | 642 | CA | 2019 | The Cowboys |
| Iron Hip | 4682 | ID | 2019 | Treasure Valley Gunslingers |
| Lady Buzzard | 3232 | ID | 2019 | Treasure Valley Gunslingers |
| Lil' Bit | 4742 | CO | 2019 | San Juan Shootists |
| Lobo | 902 | WI | 2019 | Black River Bandits |
| Mean Gene | 1955 | CA | 2019 | The Cowboys |
| Ms. Cisco | 2562 | KY | 2019 | Bluegrass Fast Draw Club |
| Olden' Fast | L3613 | NV | 2019 | Great Basin Gunhawks |
| Philippine Red | 5144 | NV | 2019 | Great Basin Gunhawks |
| QC Carver | 4679 | AZ | 2019 | Rio Salado Vaqueros |
| Quigley | L4989 | CO | 2019 | San Juan Shootist |
| Ranger Reeves | 5143 | NV | 2019 | Great Basin Gunhawks |
| Risky Dame | 2583 | CA | 2019 | Bar T Gunfighters |
| Rooster No Hit | 5663 | TX | 2019 | Comanche Moon Renegades |
| Soapy Smith | 1884 | TX | 2019 | Comanche Moon Renegades |
| The Lady Heather | 4486 | NV | 2019 | Great Basin Gunhawks |
| Tulsa Flash | 2369 | OK | 2019 | Route 66 smOKin' Guns |
| Tuscarora | 5162 | NV | 2019 | Great Basin Gun Hawks |
| Wa-Hoo | L3324 | WI | 2019 | Black River Bandits |
| X | L4369 | OK | 2019 | Route 66 smOKin' Guns |
| Yosemite Sean | 5101 | CA | 2019 | The Cowboys |
|   |   |   |   |   |
| | | | | |
| --- | --- | --- | --- | --- |
| 2020 | | | | |
| Adirondack Kid | 5737 | FL | 2020 | Cracker Cowboys |
| Blazin' Bob | 6041 | FL | 2020 | Single Action Savants |
| Buckwheat James | 2744 | ID | 2020 | Eagle Rock Outlaws |
| Cimarron Kid | 3223 | ID | 2020 | Eagle Rock Outlaws |
| Corkey | L166 | TX | 2020 | Comanche Moon Renegades |
| Dakota Joe | 4633 | AR | 2020 | Randolph County Rangers |
| Dancing Fish | 5001 | ID | 2020 | Snake River Gunslingers |
| Debbie Sioux | 3073 | ID | 2020 | Eagle Rock Outlaws |
| Dog Iron | 4112 | OK | 2020 | Route 66 smOKin' Guns |
| Gringo Pistolero | 5370 | CA | 2020 | The Cowboys |
| Gunslinger Lilly | L2057 | PA | 2020 | Keystone Gunslingers |
| Irish Tim | 5694 | FL | 2020 | Cracker Cowboys |
| Kid Colton | L4593 | ID | 2020 | Snake River Gunslingers |
| Latigo | 4501 | OK | 2020 | Route 66 smOKin' Guns |
| Mississippi 6 Gun | 1564 | CA | 2020 | The Cowboys |
| Montana Skye | L2499 | PA | 2020 | Keystone Gunslingers |
| Nessuno | L5331 | ID | 2020 | Snake River Gunslingers |
| No Tellin' | 6061 | AR | 2020 | Randolph County Rangers |
| Old Drifter | 4139 | CA | 2020 | Gold Country Outriders |
| Pony | 4401 | FL | 2020 | Single Action Savants |
| Roley Bear | 5767 | OK | 2020 | Route 66 smOKin' Guns |
| Sandy | L5792 | ID | 2020 | Snake River Gunslingers |
| The Buckney Kid | 3976 | ID | 2020 | Eagle Rock Outlaws |
| | | | | |
| --- | --- | --- | --- | --- |
| 2021 | | | | |
| Blue Eyed Bandit | 2235 | TX | 2021 | Big Thicket Bushwackers |
| Cardoza Kid | L1002 | CA | 2021 | The Cowboys |
| Crazy Jane | L4371 | OK | 2021 | Route 66 smOKin' Guns |
| Crystal J | L5810 | NV | 2021 | Great Basin Gunhawks |
| Dago | 5675 | WI | 2021 | Black River Bandits |
| Delta Whiskey | 2234 | TX | 2021 | Big Thicket Bushwackers |
| Diablo Daisy | L4256 | CA | 2021 | Gold Country Outriders |
| Diamond Jim | L4490 | NV | 2021 | Great Basin Gunhawks |
| Just Rock | 5518 | VA | 2021 | Virginia Peacemakers |
| Lead Poison | L4534 | OK | 2021 | Route 66 smOKin' Guns |
| Mud Cat | 2232 | TX | 2021 | Big Thicket Bushwackers |
| Pink Sunset | 5736 | CA | 2021 | The Cowboys |
| Rattling Rob | 5608 | TX | 2021 | Rio Salado Vaqueros |
| Scarlett Bandit | 2288 | TX | 2021 | Big Thicket Bushwackers |
| Still Shot | L5086 | TX | 2021 | Old Pueblo Gunfighters |
| W. Le Fors | L4151 | CA | 2021 | Gold Country Outriders |
| Whip Lash | 3765 | TX | 2021 | Big Thicket Bushwackers |
| | | | | |
| --- | --- | --- | --- | --- |
| 2022 |   |   |   |   |
| Ain't Missin | 6385 | OK | 2022 | Route 66 smOKin' Guns |
| Ambush | 4307 | ID | 2022 | Sawtooth Shootist Society |
| Bar Stool Bob | L6035 | FL | 2022 | Cracker Cowboys |
| Buffalo Gal | 5757 | CO | 2022 | San Juan Shootists |
| Chops | 5813 | KY | 2022 | Bluegrass Fast Draw Club |
| Cold Hard Cash | 6384 | OK | 2022 | Route 66 smOKin' Guns |
| Crazy J  | 5551 | CO | 2022 | San Juan Shootists |
| Desert Dingo | L6010 | UT | 2022 | Promontory Point Posse |
| Dogboy | L1608 | AZ | 2022 | Assoc. of AZ Gunslingers |
| Duelin' Dan | L3832 | CA | 2022 | The Cowboys |
| Father Time | 6227 | CA | 2022 | The Cowboys |
| Gold Dust | 3329 | AZ | 2022 | Old Pueblo Gunfighters |
| Gun Shy | 6483 | KY | 2022 | Bluegrass Fast Draw Club |
| Half Fast Eddy | L3529 | ID | 2022 | Eagle Rock Outlaws |
| Heartbreaker | 6228 | CA | 2022 | The Cowboys |
| Hex | 6456 | CO | 2022 | Dirty Face Gang |
| Krazy K | 6118 | FL | 2022 | Cracker Cowboys |
| Lucky Lefty | 6560 | CA | 2022 | Bar T Gunfighters |
| Patchem Quick | L3680 | CA | 2022 | The Deputies |
| QD Kate | 6081 | CA | 2022 | The Deputies |
| Rebel Yell | 4716 | TX | 2022 | The Lone Star Gunslingers |
| Red  | 2737 | ID | 2022 | Eagle Rock Outlaws |
| Ricochet   | 1247 | UT | 2022 | Promontory Point Posse |
| Ricochet Rebon | 4898 | AR | 2022 | Randolph County Rangers |
| Ringo Kid | L4720 | TX | 2022 | The Lone Star Gunslingers |
| Riverboat Gambler | 5847 | TX | 2022 | Hill Country Fast Draw |
| Tallahassee | 5024 | ID | 2022 | Sawtooth Shootist Society |
| Yucca Kid | L2199 | AZ | 2022 | Assoc. of AZ Gunslingers |